October 9-11, 2015: "Why Not Become All Aflame?"
22nd Annual Brotherhood of St. Moses the Black Conference
Linking Ancient African Christianity and the African-American Experience
Registration | Details | Schedule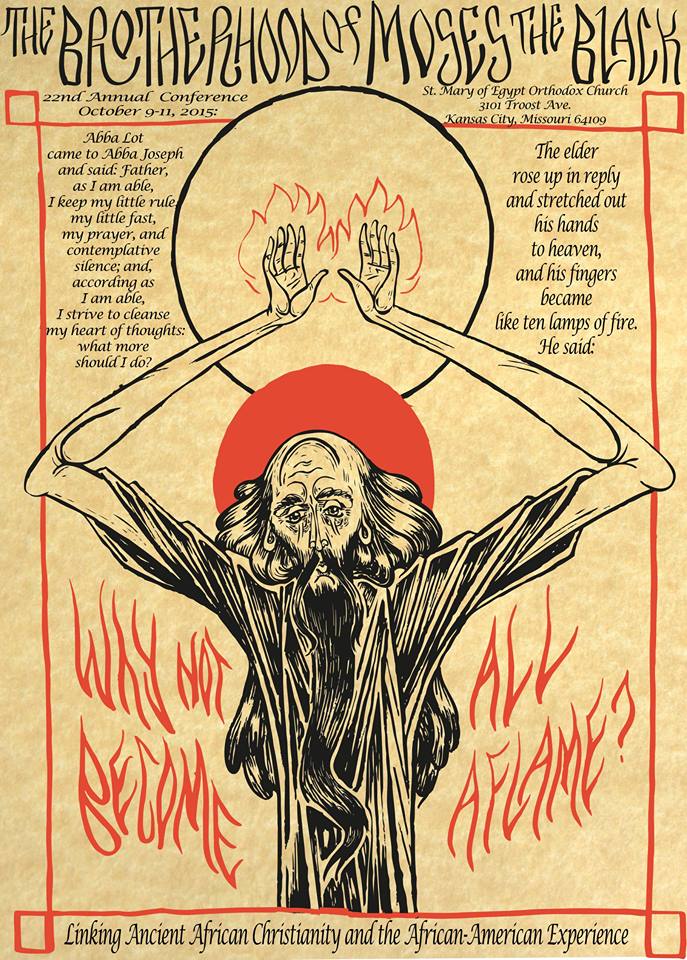 Registration
Click here to register online for the 2015 conference.
Payment will not happen until check-in, but advance registration is required so that we can plan appropriately.
Details
Theme
"Why Not Become All Aflame?"
Speakers
Archbishop Michael, Friday keynote address
Father Moses Berry:
   In remembrance of our righteous ancestors
Mother Katherine Weston:
   Reflections on Racism
Father Jerome Sanderson:
   Blessed is the warmth of Thy Saints–Refocusing on first things
Father Alexii Altschul:
   Accessibility of the Orthodox Church in an urban community
Location
St. Mary of Egypt Orthodox Church
3101 Troost Ave.
Kansas City, Missouri 64109
Hotel
America's Best Value Inn
3240 Broadway St. Kansas City, MO 64111
816-531-9250
http://www.americasbestvalueinn.com/bestv.cfm?idp=1791
Questions?
Email smoe.brotherhood@gmail.com.
Schedule
Thursday, October 8
12:00 noon: Depart Kansas City for optional pilgrimage to Holy Archangel Michael and All Angels Skete
Friday, October 9
12:00 noon: Check-in begins
1:00pm: Keynote address by Archbishop Michael, followed by Q & A
2:30pm: Panel discussion with Orthodox ministry leaders
4:00pm: Break, potential to get settled at host home or hotel
5:30pm: Dinner
 5-7pm: Reconciliation Services community dinner on the first floor.
7:30pm: Vespers
8:30pm: Fellowship time
Saturday, October 10
8:00am: Breakfast
9:00am: Akathist to St. Moses the Black
9:30am: First talk, by Fr. Moses: "In remembrance of our righteous ancestors"
10:30am: Second talk, by M. Katherine: "Reflections on Racism"
11:30am: Breakout sessions
– Discussion of Fr. Moses's talk
– Discussion of M. Katherine's talk
12:30pm: Lunch
2:00pm: Third talk, by Fr. Jerome: "Blessed is the warmth of Thy Saints–Refocusing on first things"
3:00pm: Fourth Talk, by Fr. Alexii: "Accessibility of the Orthodox Church in an urban community"
4:00pm: Breakout sessions
– Discussion of Fr. Jerome's talk
– Discussion of Fr. Alexii's talk
5:00pm: Break
6:00pm: Vespers
7:30pm: Celebratory soul food dinner
9:30pm: Fellowship time
Sunday, October 11
8:00am: Matins
9:30am: Divine Liturgy
11:30am: Lunch
1:00pm: Airport shuttle leaves, to arrive at the airport at 1:30pm