Baptismal Robes
The St. Elizabeth Sisterhood is pleased to offer baptismal robes for adults and children. Our garment is a simple, dignified tunic design, patterned after the Server's sticharion. Made of white poly/cotton, it features a full, one-size-fits-most cut, with a round, collarless opening with a front center slit to mid-breast for quick and easy robing and disrobing. The head/neck opening is bound all around in red, and includes matching ribbon ties for secure closure at the neck. The back of the robe is adorned with a red embroidered applique cross. Although this garment is of a "one-size-fits-most" design, the bottom hem and sleeve length will be customized.
As the Troparion signifies, the baptismal robe is a garment steeped in history and rich in Christian tradition and symbolism. As our Lord Jesus Christ clothes Himself with light as with a garment, so are we clothed in the garment of incorruption when we "put on Christ" at our baptism. Traditionally, the newly baptized wear his/her baptismal robe at every liturgical celebration – especially the Divine Liturgy – for 40 days following their baptism, bearing their lighted taper, symbolizing that they are newly illumined in Christ.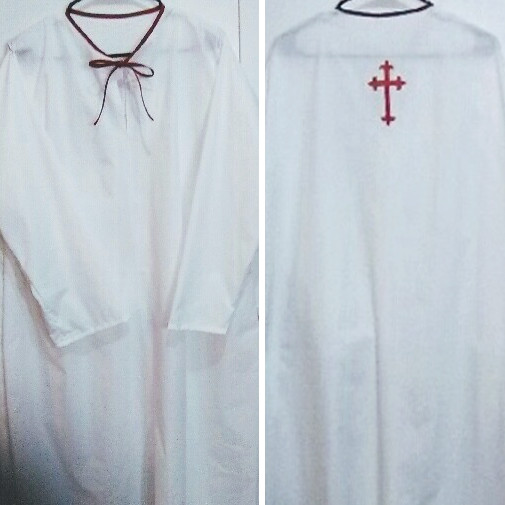 Material: Poly/Cotton
Color: White
Applique: Red
Fit: One-size-fits-most
Donation: $50 ($35 for infant robe)
Shipping: Priority Mail flat rate, $8.30 for one robe, with 2-3 day delivery.
For individual robes:
Online ordering will be available soon.
In the mean time, orders can be placed by emailing Mother Miriamna (momariamna@yahoo.com) with the following information:
Name
Baptismal name
Date of baptism
Gender
Height (feet and inches)
Chest / bust measurement (inches)
Cross type: 3-bar Cross or Fluer de Lis Cross
Robe size: Adult (16+), Child (under 16), or Infant (newborn-2)
Age, if infant or child
If ordering more than one robe:
Please contact Mother Miriamna for production and delivery information for multiple robes, via phone (816-646-6149), or email (momariamna@yahoo.com).
Adult Robe
Infant/Toddler Robe (ages up to 2 years)