Baptismal Robes
The St. Elizabeth Sisterhood is pleased to offer baptismal robes for all ages. Our garment is a simple tunic design, patterned after the Server's sticharion. Made of white poly/cotton, it features a full, one-size-fits-most cut, with a round, collarless opening with a front center slit to mid-breast for quick and easy robing and disrobing. The neck is bound all around in red, and includes matching ribbon ties for secure closure at the neck. The back of the robe is adorned with a red embroidered appliqué cross.
As the Troparion signifies, the baptismal robe is a garment steeped in history and rich in Christian tradition and symbolism. As our Lord Jesus Christ clothes Himself with light as with a garment, so are we clothed in the garment of incorruption when we "put on Christ" at our baptism. Traditionally, the newly baptized wears the baptismal robe at every liturgical celebration – especially the Divine Liturgy – for 40 days following their baptism, bearing their lighted taper, symbolizing that they are newly illumined in Christ.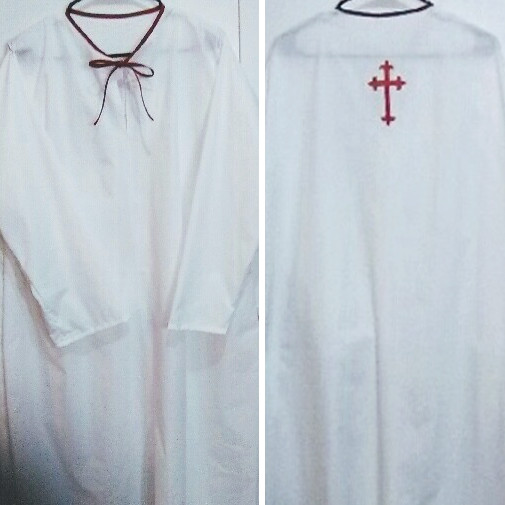 Donation: $50 for adult robe, $35 for child or infant robe. Note: If your child is 4'10" or taller, please order an adult robe. Please email us for pricing of 100% cotton robe.
Shipping: Priority Mail flat rate with 2-3 day delivery.
Important note: We require at least 3 weeks production time to create your robes.
Christ is in our midst!
If you have any questions, please email us!